gamma-Linolenic acid (GLA), one of the omega-6 polyunsaturated fatty acids, like its precursor linoleic acid (the most abundant polyunsaturated fatty acid in human skin epidermis, where it's involved in the maintenance of the epidermal water barrier), plays important roles in the physiology and pathophysiology of the skin.
Studies conducted on humans revealed that gamma-linolenic acid:
improves skin moisture, firmness, roughness;
decreases transepidermal water loss (one of the abnormalities of the skin in essential fatty acid deficiency animals).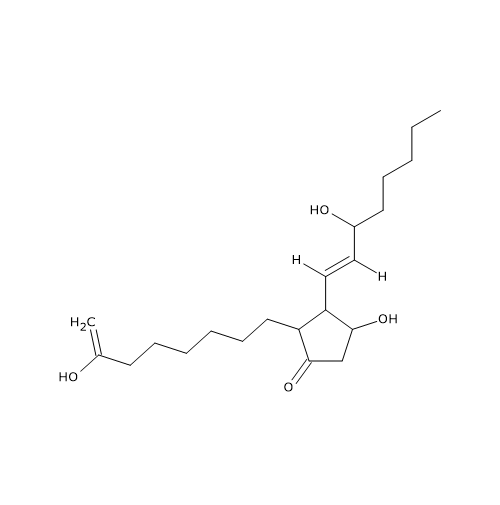 Using guinea pig skin epidermis as a model of human epidermis (they are functionally similar), it was demonstrated that supplementation of animals with gamma-linolenic acid-rich foods results in a major production of PGE1 and 15-HETrE in the skin (as previously demonstrated in in vitro experiments).
Because these molecules have both anti-inflammatory/anti-proliferative properties supplementation of diet with gamma-linolenic acid acid-rich foods may be an adjuncts to standard therapy for inflammatory/proliferative skin disorders.
Supplemental sources of GLA
The main supplemental sources of gamma-linolenic acid are oils of the seeds of:
borage (20%-27% of the total fatty acids);
black currant (from 15% to 19% of the total fatty acids);
evening primrose (from 7% to 14% of the total fatty acids), and
Role of gamma-linolenic acid in lowering blood pressure
The relationship between dietary fatty acid intake and blood pressure mainly comes from studies conducted on genetically modified rats that spontaneously develops hypertension (a commonly used animal model for human hypertension).
In these studies many membrane abnormalities were seen so hypertension in rat model may be related to change in polyunsaturated fatty acid metabolism at cell membrane level.
About polyunsaturated fatty acids, several research teams have reported that gamma-linolenic acid reduces blood pressure in normal and genetically modified rats (greater effect) and it was purported by interfering with Renin-Angiotensin System (that promote vascular resistance and renal retention) altering the properties of the vascular smooth muscle cell membrane and so interfering with the action of angiotensin II.
Another possible mechanism of action of gamma-linolenic acid to lower blood pressure could be by its metabolite dihomo-gamma-linolenic acid: it may be incorporated in vascular smooth muscle cell membrane phospholipids, then released by the action of phospholipase A2 and transformed by COX-1 in PGE1 that induces vascular smooth muscle relaxation.
Role gamma-linolenic acid in treatment of rheumatoid arthritis
In a study conducted by Leventhal et al. on 1993 it was demonstrated the dietary intake of higher concentration of borage oil (about 1400 mg of gamma-linolenic acid/day) for 24 weeks resulted in clinically significant reductions in signs and symptoms of rheumatoid arthritis activity.
In a subsequent study by Zurier et al. on 1996 the dietary intake of an higher dose (about 2.8 g/day gamma-linolenic acid) for 6 months reduced, in a clinically relevant manner, signs and symptoms of the disease activity; patients who remained for 1 year on the 2.8 g/day dietary gamma-linolenic acid exhibited continued improvement in symptoms (the use of gamma-linolenic acid also at the above higher dose is well tolerated, with minimal deleterious effects). These data underscore that the daily amount and the duration of gamma-linolenic acid dietary intake do correlate with the clinical efficacy.
References
Akoh C.C. and Min D.B. "Food lipids: chemistry, nutrition, and biotechnology" 3th ed. 2008
Chow Ching K. "Fatty acids in foods and their health implication" 3th ed. 2008
Fan Y.Y. and Chapkin R.S. Importance of dietary γ-linolenic acid in human health and nutrition. J Nutr 1998;128:1411-1414. doi:10.1093/jn/128.9.1411
Leventhal L.J., Boyce E.G. and Zurier R.B. Treatment of rheumatoid arthritis with gammalinolenic acid. Ann Intern Med 1993;119:867-873. doi:10.7326/0003-4819-119-9-199311010-00001
Miller C.C. and Ziboh V.A. Gammalinolenic acid-enriched diet alters cutaneous eicosanoids. Biochem Biophys Res Commun 1988;154:967-974. doi:10.1016/0006-291X(88)90234-3
Zurier R.B., Rossetti R.G., Jacobson E.W., DeMarco D.M., Liu N.Y., Temming J.E., White B.M. and Laposata M. Gamma-linolenic acid treatment of rheumatoid arthritis. A randomized, placebocontrolled trial. Arthritis Rheum 1996;39:1808-1817. doi:10.1002/art.1780391106