The consumption of grapes and grape-derived products, particularly red wine but only at meals, has been associated with numerous health benefits, which include, in addition to the antioxidant/antiradical effect, also anti-inflammatory, cardioprotective, anticancer, antimicrobial, and neuroprotective activities.
Grapes contain many nutrients such as sugars, vitamins, minerals, fiber and phytochemicals. Among the latter, polyphenols from grapes are the most important compounds in determining the health effects of the fruit and derived products.
Indeed, grapes are among the fruits with highest content in polyphenols, whose composition is strongly influenced by several factors such as:
cultivar;
climate;
exposure to disease;
processing
Nowadays, the main species of grapes cultivated worldwide are: European grapes, Vitis vinifera, North American grapes, Vitis rotundifolia and Vitis labrusca, and French hybrids.
Note: Grapes are not a fruit but an infructescence, that is, an ensemble of fruits (berries): the bunch of grapes. In turn, it consists of a peduncle, a rachis, cap stems or pedicels, and berries.
CONTENTS
What are polyphenols from grapes and wines?
Polyphenols from red grapes and wine are significantly higher, both in quantity and variety, than in white ones. This, according to many researchers, would be the basis of the more health benefits related to the consumption of red grapes and wine than white grapes and derived products.
Polyphenols from grapes and wine are a complex mixture of flavonoid compounds, the most abundant group, and non-flavonoid compounds.
Among flavonoids, they are found:
Among non-flavonoid polyphenols:
stilbenes;
hydroxybenzoates.
Most of the flavonoids present in wine derive from the epidermal layer of the berry skin, while 60-70% of the total polyphenols are present in the grape seeds. It should be noted that more than 70% of grape polyphenols are not extracted and remain in the pomace.
The complex chemical interactions that occur between these compounds, and between them and the other compounds of different nature present in grapes and wine, are probably essential in determining both the quality of the grapes and wine and the broad spectrum of therapeutic effects of these foods.
In wine, the mixture of polyphenols play important functions being able to influence:
bitterness;
astringency;
red color, of which they are among the main responsible;
sensitivity to oxidation, being molecules easily oxidizable by atmospheric oxygen.
Finally, they act as wine preservatives, and are the basis of its long aging.
Anthocyanins
They are flavonoids widely distributed in fruits and vegetables.
They are primarily located in the berry skin (in the outer layers of the hypodermal tissue), to which they confer color, having a hue that varies from red to blue. In some varieties, called "teinturier", they also accumulate in the flesh of the berry.
There is a close relationship between berry development and the biosynthesis of anthocyanins. The synthesis starts at veraison (when the berry stops growing and changes its color), causes a color change of the berry that turns purple, and reaches the maximum levels at complete ripening.
Among wine flavonoids, they are one of the most potent antioxidants.
Each grape species and cultivars has a unique composition of anthocyanins. Moreover, in grapes of Vitis vinifera, due to a mutation in the gene coding for 5-O-glucosyltransferase, mutation that determines the synthesis of an inactive enzyme, only 3-monoglucoside derivatives are synthesized, while in other species the glycosylation at position 5 also occurs. Interestingly, 3-monoglucoside derivatives are more intensely colored than 3,5-diglucoside derivatives.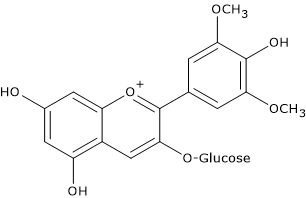 In red grapes and wine, the most abundant anthocyanins are the 3-monoglucosides of malvidin (the most abundant one both in grapes and wine), petunidin, delphinidin, peonidin, and cyanidin. In turn, the hydroxyl group at position 6 of the glucose can be acylated with an acetyl, caffeic or coumaric group, acylation that further enhances the stability.
Anthocyanidins, namely the non-conjugated molecules, are not present in grapes and in wine, except as traces.
Anthocyanins are scarcely present in white grapes and wine.
The composition of anthocyanins in wine is highly influenced both by the type of cultivar and by processing techniques, since they are present in wine as a result of extraction by maceration/fermentation processes. For this reason, wines deriving from similar varieties of grapes can have very different anthocyanin compositions.
Together with proanthocyanidins, they are the most important polyphenols in contributing to some organoleptic properties of red wine, as they are primarily responsible for astringency, bitterness, chemical stability against oxidation, as well as of the color of the young wine. In this regard, it should be underscored that with time their concentration decreases, while the color is due more and more to the formation of polymeric pigments produced by condensation of anthocyanins both among themselves and with other molecules.
During wine aging, proanthocyanidins and anthocyanins react to produce more complex molecules that can partially precipitate.
Flavanols or catechins
They are, together with condensed tannins, the most abundant flavonoids, representing up to 50% of the total polyphenols in white grapes and between 13% and 30% in red ones.
Their levels in wine depend on the type of cultivar.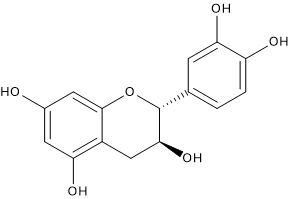 Typically, the most abundant flavanol in wine is catechin, but epicatechin and epicatechin-3-gallate are also present.
Proanthocyanidins or condensed tannins
Composed of catechin monomers, they are present in the berry skin, seeds and rachis of the bunch of grapes as:
dimers: the most common are procyanidins B1-B4, but also procyanidins B5-B8 can be present;
trimers: procyanidin C1 is the most abundant;
tetramers;
polymers, containing up to 8 monomers.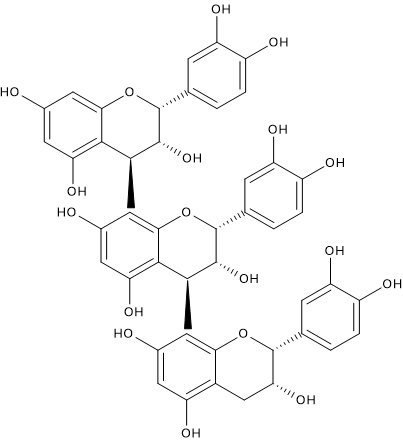 Their levels in wine depend on the type of grape varieties and wine-making technology, and, like anthocyanins, are much more abundant in red wines, in particular in aged wines, compared to white ones.
In addition, as previously said, together with anthocyanins, condensed tannins are important in determining some organoleptic properties of the wine.
Flavonols
They are present in a large variety of fruit and vegetables, even if in low concentrations.
They are the third most abundant group of flavonoids from grapes, after proanthocyanidins and catechins.
They are mainly present in the outer epidermis of the berry skin, where they play a role both in providing protection against UV-A and UV-B radiations and in copigmentation together with anthocyanins.
Flavanol synthesis begins in the sprout; the highest concentration is reached a few weeks after veraison, then it decreases as the berry increases in size.
Their total amount is very variable, with the red varieties often richer than the white ones.
In grapes, they are present as 3-glucosides and their composition depends on the type of grapes and cultivar:
the derivatives of quercetin, kaempferol and isorhamnetin are found in white grapes;
the derivatives of myricetin, laricitrin and syringetin are found, together with the previous ones, only in red grapes, due to the lack of expression in white grapes of the gene coding for flavonoid-3′,5′-hydroxylase.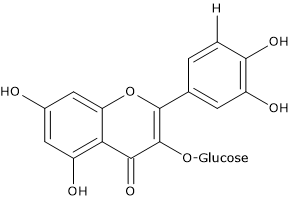 In general, the 3-glucosides and 3-glucuronides of quercetin are the major flavonols in most of the grape varieties. Conversely, quercetin-3-rhamnoside and quercetin aglycone are the major flavonols in muscadine grapes.
In wine and grape juice, unlike grapes, they are also found as aglycones, as a result of the acid hydrolysis that occurs during processing and storage. They are present in wine in a variable amount, and the major molecules are the glycosides of quercetin and myricetin, which alone represent 20-50% of the total flavonols in red wine.
Hydroxycinnamates
Hydroxycinnamic acids are the main class of non-flavonoid polyphenols from grapes and the major polyphenols in white wine.
The most important are p-coumaric, caffeic, sinapic, and ferulic acids, present in wine as esters with tartaric acid.
They have antioxidant activity and in some white varieties of Vitis vinifera, together with flavonols, are the polyphenols mainly responsible for absorbing UV radiation in the berry.
Stilbenes
They are phytoalexins which are produced in low concentrations only by a few edible species, including grapevine (on the contrary, flavonoids are present in all higher plants).
Together with the other polyphenols from grapes and wine, also stilbenes, particularly resveratrol, have been associated with health benefits resulting from the consumption of wine.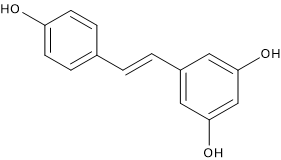 Their content increases from the veraison to the ripening of the berry, and is influenced by the type of cultivar, climate, wine-making technology, and fungal pressure.
The main stilbenes present in grapes and wine are:
cis- and trans-resveratrol (3,5,4′-trihydroxystilbene);
piceid or resveratrol-3-glucopyranoside and astringin or 3′-hydroxy-trans-piceid;
piceatannol;
dimers and oligomers of resveratrol, called viniferins, of which the most important are:
α-viniferin, a trimer;
β-viniferin, a cyclic tetramer;
γ-viniferin, a highly polymerized oligomer;
ε-viniferin, a cyclic dimer.
In grapes, other isomers and glycosylated forms of resveratrol and piceatannol, such as resveratroloside, hopeaphenol, or resveratrol di- and tri-glucoside derivatives, have been found in trace amounts.
Glycosylation of stilbenes is important for the modulation of antifungal activity, protection from oxidative degradation, and storage of the wine.
The synthesis of dimers and oligomers of resveratrol, both in grapes and wine, represents a defense mechanism against exogenous attacks or, on the contrary, the result of the action of extracellular enzymes released from pathogens in an attempt to eliminate undesirable compounds.
Hydroxybenzoates
The hydroxybenzoic acid derivatives are a minor component in grapes and wine.
In grapes, gentisic, gallic, p-hydroxybenzoic and protocatechuic acids are the main ones.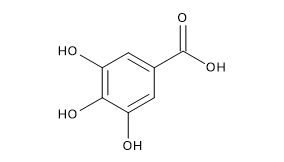 Unlike hydroxycinnamates, which are present in wine as esters with tartaric acid, they are found in their free form.
Together with flavonols, proanthocyanidins, catechins, and hydroxycinnamates they are among the responsible of astringency of wine.
References
Andersen Ø.M., Markham K.R. Flavonoids: chemistry, biochemistry, and applications. CRC Press Taylor & Francis Group, 2006
Basli A, Soulet S., Chaher N., Mérillon J.M., Chibane M., Monti J.P.,1 and Richard T. Wine polyphenols: potential agents in neuroprotection. Oxid Med Cell Longev 2012. doi:10.1155/2012/805762
de la Rosa L.A., Alvarez-Parrilla E., Gonzàlez-Aguilar G.A. Fruit and vegetable phytochemicals: chemistry, nutritional value, and stability. 1th Edition. Wiley J. & Sons, Inc., Publication, 2010
Flamini R., Mattivi F., De Rosso M., Arapitsas P. and Bavaresco L. Advanced knowledge of three important classes of grape phenolics: anthocyanins, stilbenes and flavonols. Int J Mol Sci 2013;14:19651-19669. doi:10.3390/ijms141019651
Georgiev V., Ananga A. and Tsolova V. Recent advances and uses of grape flavonoids as nutraceuticals. Nutrients 2014;6: 391-415. doi:10.3390/nu6010391
Guilford J.M. and Pezzuto J.M. Wine and health: a review. Am J Enol Vitic 2011;62(4):471-486. doi:10.5344/ajev.2011.11013
He S., Sun C. and Pan Y. Red wine polyphenols for cancer prevention. Int J Mol Sci 2008;9:842-853. doi:10.3390/ijms9050842
Xia E-Q., Deng G-F., Guo Y-J. and Li H-B. Biological activities of polyphenols from grapes. Int J Mol Sci 2010;11:622-646. doi:10.3390/ijms11020622
Waterhouse A.L. Wine phenolics. Ann N Y Acad Sci 2002;957:21-36. doi:10.1111/j.1749-6632.2002.tb02903.x