Isoflavones are colorless polyphenols belonging to the flavonoid family.
Unlike the majority of the other flavonoids, they have a restricted taxonomic distribution, being present almost exclusively in the Leguminosae or Fabaceae plant family, mainly in soy.
Since legumes, soy in primis, are a major part of the diet in many cultures, these flavonoids may have a great impact on human health.
They are also present in beans and broad beans, but in much lower concentrations than those found in soy and soy products.
Also red clover or meadow clover (Trifolium pratense), another member of Leguminosae family, is a good source.
Currently, they are not found in fruits and vegetables.
Together with phenolic acids, such as caffeic acid and gallic acid, and quercetin glycosides, they are the most well-absorbed polyphenols, followed by flavanones and catechins (but not gallocatechins).
In plants, some isoflavones have antimicrobial activity and are synthesized in response to attacks by bacteria or fungi; thus they act as phytoalexins.
CONTENTS
Chemical structure
While most flavonoids have B ring attached to position 2 of C ring, isoflavones have B ring attached to position 3 of C ring.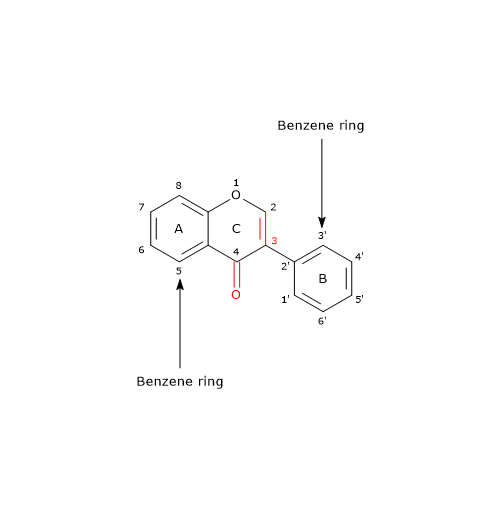 Even if they are not steroids, they have structural similarities to estrogens, particularly estradiol. This confers them pseudohormonal properties, such as the ability to bind estrogen receptors; therefore, they are classified as phytoestrogens or plant estrogens. The benefits often ascribed to soy and soy products (e.g. tofu) are believed to result from the ability of isoflavones to act as estrogen mimics .
It should be underlined that the binding to estrogen receptors seems to lose strength with time, therefore their potential efficacy should not be overestimated.
In foods, they are present in four forms:
aglycone;
7-O-glucoside;
6′-O-acetyl-7-O-glucoside;
6′-O-malonyl-7-O-glucoside.
Soy isoflavones: genistein, daidzein and glycitein
Soy and soy products, such as soy milk, tofu, tempeh and miso, are the main source of isoflavones in the human diet.
The isoflavone content of soy and soy products varies greatly as a function of growing conditions, geographic zone, and processing; for example, in soy it ranges between 580 and 3800mg/kg fresh weight, while in soy milk it range between 30 and 175 mg/L. The most abundant isoflavones in soy and soy products are genistein, daidzein and glycitein, generally present in a concentration ratio of 1:1:0,2.; biochanin A and formononetin are other isoflavones present in less concentrations.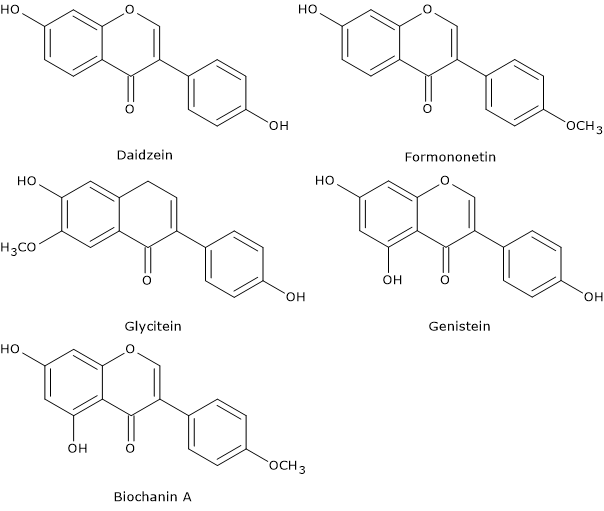 The 6′-O-malonyl derivatives have a bitter, unpleasant, and astringent taste; therefore they give a bad flavor to the food in which they are contained. However, being sensitive to temperature, they are often hydrolyzed to glycosides during processing, such as the production of soy milk.
The fermentation processes needed for the preparation of certain foods, such as tempeh and miso, determines in turn the hydrolysis of glycosides to aglycones, i.e. the sugar-free molecule.
Isoflavone glycosides present in soy and soy products can also be deglycosylated by β-glucosidases in the small intestine.
The aglycones are very resistant to heat.
Although many compounds present in the diet are converted by intestinal bacteria to less active molecules, other compounds are converted to molecules with increased biological activity. This is the case of isoflavones, but also of prenylflavonoids from hops (Humulus lupulus), and lignans, that are other phytoestrogens.
Phytoestrogens and menopause
Vasomotor symptoms, such as night sweats and hot flashes, and bone loss are very common in perimenopause, also called menopausal transition, and menopause. Hormone replacement therapy (HRT) has proved to be a highly effective treatment for the prevention of menopausal bone loss and vasomotor symptoms.
The use of alternative therapies based on phytoestrogens is increased as a result of the publication of the "Women's Health Initiative" study, that suggests that hormone replacement therapy could lead to more risks than benefits, in particular an increased risk of developing some chronic diseases.
Soy isoflavones are among the most used phytoestrogens by menopausal women, often taken in the form of isoflavone fortified foods or isoflavone supplements.
However, many studies have highlighted the lack of efficacy of soy isoflavones, and red clover isoflavones, even in large doses, in the prevention of vasomotor symptoms (hot flushes and night sweats) and bone loss during menopause.
References
de la Rosa L.A., Alvarez-Parrilla E., Gonzàlez-Aguilar G.A. Fruit and vegetable phytochemicals: chemistry, nutritional value, and stability. 1th Edition. Wiley J. & Sons, Inc., Publication, 2010
Han X., Shen T. and Lou H. Dietary polyphenols and their biological significance. Int J Mol Sci 2007;9:950-988. doi:10.3390/i8090950
Lagari V.S., Levis S. Phytoestrogens for menopausal bone loss and climacteric symptoms. J Steroid Biochem Mol Biol 2014;139:294-301 doi:10.1016/j.jsbmb.2012.12.002
Lethaby A., Marjoribanks J., Kronenberg F., Roberts H., Eden J., Brown J. Phytoestrogens for menopausal vasomotor symptom. Cochrane Database of Systematic Reviews 2013, Issue 12. Art. No.: CD001395. doi:10.1002/14651858.CD001395.pub4
Levis S., Strickman-Stein N., Ganjei-Azar P., Xu P., Doerge D.R., Krischer J. Soy isoflavones in the prevention of menopausal bone loss and menopausal symptoms: a randomized, double-blind trial. Arch Intern Med 2011:8;171(15):1363-1369 doi:10.1001/archinternmed.2011.330
Manach C., Scalbert A., Morand C., Rémésy C., and Jime´nez L. Polyphenols: food sources and bioavailability. Am J Clin Nutr 2004;79(5):727-747. doi:10.1093/ajcn/79.5.727
Tsao R. Chemistry and biochemistry of dietary polyphenols. Nutrients 2010;2:1231-1246. doi:10.3390/nu2121231